You Will Live a Long Life…What Are Your Odds of Needing Care?

Long Term Care
You Will Live a Long Life…What Are Your Odds of Needing Care?
As Americans live longer, the odds are greater that we'll need long term care. If you're on the fence about how to plan for it—should you insure the risk or take your chances and hope you'll never need it—you're not alone.
We believe the best way to make smart decisions is to arm yourself with the facts.
How likely are you to need long term care?
While the average duration and level of long term care varies dramatically and continues to change over time, here are some statistics to consider:
Someone turning 65 today has almost a 70% chance of needing some type of long-term care services and supports in their remaining years.1
53% of women and 47% of men will need long term care in their lifetimes.2
Women need care longer (3.7 years) than men (2.2 years).3
While one-third of today's 65 year-olds may never need long-term care support, 20% will need it for longer than 5 years.4
What does long term care cost?
Long term care is becoming costlier every year. Rates for nursing homes, assisted living, and in-home care are higher than most people have planned for, and are continuing to rise.
Annual costs for long term care services increased an average of 3.32% from 2018 to 2019, with costs for some services drastically exceeding the 1.8% inflation rate.5 Assisted living facility rates have increased by a staggering 66% since 2004.6 For the first time, costs for home care have also increased dramatically by over 7% due to low provider unemployment and retention issues.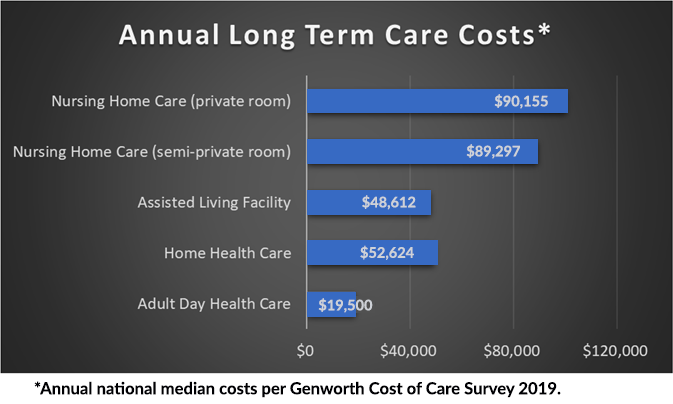 More than 5 million Americans age 65 and older are living with Alzheimer's dementia in 2020. Eighty percent are age 75 or older.7 Estimated lifetime costs of care for someone with dementia average nearly $357,000.8 The median household wealth for adults in their 60's is just $221,200.9 If current trends continue, many Americans could be faced with a considerable shortfall.
What does it cost to insure for long term care?
Long term care (LTC) insurance isn't cheap, and as with most insurance, the price depends on your age and health when you purchase your policy, as well as the features and benefits you select. According to the 2018 Long-Term Care Insurance Price Index, the average annual premium for a 55-year-old couple is $3,050.10 The best way to keep your costs down is to purchase your policy early. Securing LTC insurance at age 55 can be significantly cheaper than obtaining the same coverage at age 65. Some carriers also offer discounts as high as 30% for married couples.
Clearly, whether you opt for LTC insurance or not, you should have some kind of plan for how you'll pay for long term care in retirement. LTC insurance is one way to safeguard against the high potential costs of nursing homes, assisted living, and in-home health services. If you feel that a few thousand dollars per year is a fair price to pay for the peace of mind of knowing you'll be able to afford the proper care, LTC insurance could be a smart move for you.
---
12018 U.S Department of Health and Human Services
2AARP Public Policy Institute: Fact Sheet: Long-Term Support and Services, March 2017
3www.longtermcare.acl.gov, 08/29/18.
4Ibid.
5Genworth Cost of Care Survey 2019, October 2019.
6Ibid.
7www.alz.org/alzheimers-dementia/facts-figures, May 2020.
8Ibid.https://www.bankrate.com/personal-finance/average-net-worth-by-age/, May 2020.
9Bankrate 2016 Survey of Consumer Finances
10American Association for Long-Term Care Insurance: assumes an initial benefit of $150 per day for up to three years and a 90-day elimination period