Trustworthy Realtors
We have partnered with top producing brokerages and relocation departments across the country to ensure the real estate agents who represent you are trustworthy and experienced.
Generous Rebates
Relocal Move offers one of the most competitive rebate programs in the country. With our program, you can earn $1,700 back (on average) when you hire one of our partnering real estate agents.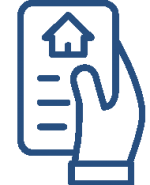 Convenient Process
We take stress out of finding a trustworthy real estate agent by finding one for you. Simply schedule a call with a Relocal Move representative to get started.
*Several states restrict real estate commission rebates: Alabama, Alaska, Iowa, Kansas, Louisiana, Mississippi, Missouri, Oklahoma, Oregon, and Tennessee.  However, a real estate commission reduction may still be available through this program in some of these states. Those states not listed here do permit real estate commission rebates to both buyers and sellers as provided through this program. (Last updated April 28, 2020.)